Goose Necked / Necked in Open Drums
Also referred to as ISO drums, these Open Head Drums are Specifically designed for exports in a shipping container.
Features and Benefits
Also at times referred to as ISO Drum, this Open Head Drum solves the problem of fitting 80 Open Head Drums in a standard 20 feet container with pallets, thanks to its innovative design which is globally acceptable and followed.
Manufactured from C.R.C.A prime steel
Thickness of steel available from 0.8mm to 1.6 mm. A combination of thickness is also possible between shell and ends
Triple seamed heads
Auto seam welded side seam
Automated cleansing process used to clean internal and external surface
Additional pilfer proofing available through tag- rings, cap-seals and other pilfer proof caps
Having a cubic capacity of 210 litres/ 55 gallons with 5% ullage, other capacities being also available
Tested using Twin Station Testing Complex including a Differential Tester
Improved Vacuum Resistance and enhanced Stack Ability
B.I.S marking available
U.N. marking available
Manufactured to meet shipping specifications (Indian & international)
Manufactured to meet U.N Performance test, to handle hazardous items classified under Groups I, II and III
Special internal finishing like Epoxy coating/Painted
Disclaimer : This are approximate dimensions for accurate dimensions please contact us.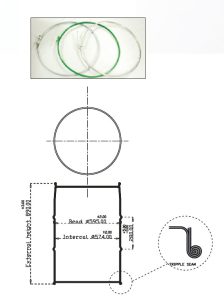 Options:
Externally painted to colours of your choice using Pure Stoving, Epoxy or P.0 paints
Capacities from 210 to 235 litres are available
Internally plain/ phosphated/ painted/ lacquered are also available
Open head with or without bungs available
Locking rings with nut & bolt or lever type arrangements are offered in various thicknesses and finishes
Seaming compound options include various types of latex and epoxy based sealants, depending on product compatibility
Normal bead/Inverted beads/ Less bead/Multiple beads
With or without Multi-Corrugation
Special fusible bungs can be offered for flammable products
Packing material options for transport protection – corrugated paper/stretch wrap/bubble wrap
Electro galvanized and stainless steel 304/316 options are also available